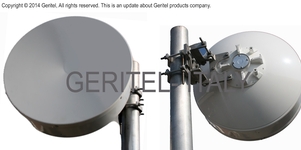 14 May 2014
11:00
The new GHP2 parabolic reflector with feed, totally made in Italy by Geritel is the best cost-effective solution for TV broadcasters, telecom operators and wireless service providers. The demand of a compact antenna with low side profile joined to high performances of reflector and feed have been the targets followed by Geritel R&D department. Antenna with feed is available in different range of frequencies (from 5 to 26GHz ) and polarization ( linear single or double).
Geritel leads the way of 5GHz antennas, increasing its actual standard feed production composed by cassegrain and rectangular waveguide "J-hook" models with a new feed suitable for this 2ft high performance antenna. For Geritel engineers 5GHz band is still important market and this antenna can replace requests refused by big manufacturers, which left out from their production this range of frequency.
Anyway, GHP2 antenna is designed to work in WIFI, HIPERLAN,WISP band and TV radio-links and telecom backhaul portion networks too.
The GHP2 back mounting system can support the ODU for all leading microwave manufactures in separate or direct mount configuration.
External package is designed with optimised sizes and using recycle foam materials which allow to the technicians a very easy and quick disposal later on site installation activities.
Geritel Marketing Department.
Click here to download the brochure:
http://www.geritel.com/products/parabolic-reflectors/high-performance-line/ghp2/