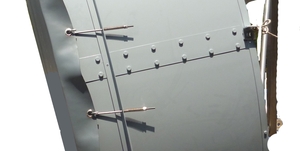 23 June 2017
11:00
Geritel provides a full range of microwave parabolic shielded antennas useful for side lobes suppression. Our production includes both solid compact and high lateral profile solutions. All antennas can be used for microwave terrestrial radiolinks and, on some special projects, for TVRO installation equipment. This line of antenna is composed by prime focus solid aluminium reflectors and different kind of feeds: single and dual polarization.
Available are different models of antenna mounts: hot-dip galvanized iron, aluminium casting or light weight versions. The flat front cover, also called radome, can be supplied on fabric or on plastic rigid material.
Size available: from 1ft (0,3m) to 12ft (3,7m).
Frequency work range: 1,0 to 26GHz
Strengths: side lobe suppression, high front-to-back ratio, high XPD value.
For more information please contact us, we will be happy to show all of our solutions.
The Marketing dptm